DJ Quik & Scarface
Date: August 14, 2017
Time: 9:00pm
Upcoming Events for Scarface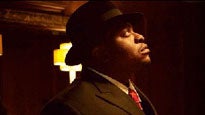 Scarface quickly became the South's most admired rapper and remained so throughout the '90s after breaking away from the Geto Boys to launch his solo career in 1991. It seemed as if every hardcore rapper wanted to align himself with Scarface's style of hard-boiled, ghetto-bred, straight-up hardcore rapping during the '90s -- everyone from Ice Cube and Dr. Dre to 2Pac and Master P collaborated with the former Geto Boy, or as he's been called, the father of Southern thug rap.
Upcoming Events for DJ Quik
One of the premier West Coast gangsta rap artists of the early '90s, DJ Quik was a rapper as well as a producer whose career carried on well into the next decade, as he put his career aside and began working primarily as a beat-maker. Born David Martin Blake on January 18, 1970, in Compton, California, DJ Quik made a name for himself on the mixtape circuit during the late '80s, compiling tapes also featuring fellow rappers AMG, 2nd II None, and Hi-C. On the basis of these mixtapes, he was signed to Priority Records and made his album debut with Quik Is the Name (1990), on which he produced all the tracks (as he would on each of his solo albums) as well as rapper. Quik Is the Name proved quite successful, spawning two hits ("Tonite," "Born and Raised in Compton") and going platinum.

Throughout the remainder of the '90s, DJ Quik released three further albums -- Way 2 Fonky (1992), Safe & Sound (1995), Rhythm-al-ism (1998) -- that were fairly successful, each going gold, yet none proved as popular as his debut. When his fifth album, Balance & Options (2000), failed to show a substantial improvement in sales, he was dropped by Arista (which had taken over Profile). His next album, Under tha Influence (2002), distributed by Universal, failed to resurrect his commercial standing. Again without a major-label deal, DJ Quik proceeded to form his own label, Mad Science Recordings, via which he released Trauma (2005) and Greatest Hits Live at the House of Blues (2006), and also, in 2005, re-released Under tha Influence. A collaborative album with Kurupt, BlaQKout, appeared in 2009 with the solo album The Book of David following in 2011.

In addition to his solo career, DJ Quik kept busy as a producer, beginning in 1991 on the debut albums by 2nd II None (2nd II None) and Hi-C (Skanless). In subsequent years he contributed productions to albums by AMG (Bitch Betta Have My Money, 1992), Penthouse Players Clique (Paid the Cost, 1992), Tony! Toni! Tone! (House of Music, 1996), 2Pac (All Eyez on Me, 1996), the Luniz (Lunitik Muzik, 1997), Jermaine Dupri (Life in 1472, 1998), Deborah Cox (One Wish, 1998), Shaquille O'Neal (Respect, 1998), Snoop Dogg (No Limit Top Dogg, 1999), Mausberg (Non Fiction, 2000), 8Ball & MJG (Space Age 4 Eva, 2000), Xzibit (Restless, 2000), Kurupt (Space Boogie: Smoke Oddessey, 2001), Talib Kweli (Quality, 2002), Truth Hurts (Truthfully Speaking, 2002), Jay-Z (The Black Album, 2003), Jadakiss (The Kiss of Death, 2004), Ludacris (Red Light District, 2005), Twiztid (Independent's Day, 2007), Murs (Murs for President, 2008), and Dwele (W.ants W.orld W.omen, 2010) among many others.