Action Bronson
Date: November 15, 2017
Time: 8:30pm
Upcoming Events for Action Bronson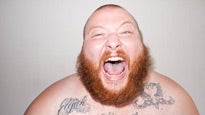 Growing up in Queens, Action Bronson began cooking at his father's restaurant as a youngster and developed a deep passion for culinary expression. As talented a rapper as he is a cook, he still claims to be "A chef first -- I just happen to rap."

You would think you'd have a better chance of becoming a rapper by going to jail than by going to culinary school. Cooking has to be one of oddest paths to becoming a respected rapper. But after learning what he could from his father, Action Bronson enrolled in the culinary program at the Art Institute of New York City. He went on to work at numerous restaurants around the five boroughs -- steakhouses, a vegetarian eatery in Manhattan and Network Cafe in Forest Hills. Bronson even had a stint at Citi Field, where he prepared post-game meals for the Mets. Duck prosciutto, heirloom tomatoes, Tunisian olives, Shiraz, smoked brisket, and the rest of his culinary ingredients were eventually all sliced and spiced into well-cooked rhymes.

"No one raps about food like I do," he told Rolling Stone. "I rap about fine dishes, like all kinds of things that only real chefs and real foodies are going to know about." He brings up a good point -- foodies need a rapper that represents them. Bronson decided to take up that mantle in 2008 and began rapping. In 2010, he released a mix-tape entitled Bon Appetit....Bitch!!!!! It started to turn heads, and the industry realized he wasn't a joke act. While food is still his first love, Bronson says he hasn't cooked professionally since he started making money by rapping.

Constantly being compared to Ghostface Killah both hurts and helps Action Bronson's career -- whether unfair or not. If you close your eyes and think Wu-Tang Clan, you'll swear Ghostface is suddenly rapping about adding "butter to the fudge." Hopefully, Bronson will rise above the comparisons and won't get bogged down in them. Also, while the chef/rapper hook is currently helping his buzz, it can't be his only thing for an entire career. Luckily, even on his debut, Bronson's songs are also filled with New York nostalgia and references to marginal celebrities like perennial WWF jobber Barry Horowitz, 90s NBA journeyman Chuck Person and 70s NFL great Larry Csonka. His talent is obvious and his tracks are just plain fun.

Action Bronson should have a long career, whether it's in mixing beats or mixing batter.