Upcoming Events for National Symphony Orchestra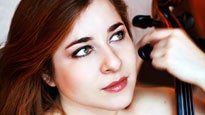 Founded in 1931 and an affiliate company of the Kennedy Center since 1986, the Orchestra has maintained its commitment to artistic excellence and music education. The Orchestra numbers 96 musicians, and two librarians, presenting a year-long season of approximately 150 concerts each year. These include classical subscription series, pops concerts, summer performances at Wolf Trap and on the lawn of the U.S. Capitol, chamber music performances in the Terrace Theater and on the Millennium Stage, and an extensive educational program. Additionally the NSO's dedicated community engagement projects include NSO In Your Neighborhood (a week of approximately 30 performances in schools, churches, community centers, and other neighborhood venues) and NSO Sound Health, launched in 2013, with performances at the National Institutes of Health, Children's National Health System, and other medical facilities.

The National Symphony Orchestra has a strong commitment to the development of America's artistic resources. Through the John and June Hechinger Commissioning Fund for New Orchestral Works, the Orchestra has commissioned more than 60 works, including cycles of fanfares and encores, which are representative of the great diversity in American composition today. In addition, through its American Residencies program (1992-2011), the NSO visited 21 states, performing, training, and teaching, with all proceeds from concerts remaining in the state to benefit local arts organizations.

Over its prestigious history, the NSO has undertaken many international tours, most recently two under the direction of Maestro Eschenbach in 2012 and 2013, visiting nine countries to great acclaim. The National Symphony Orchestra regularly participates in events of national and international importance, including performances for state occasions, presidential inaugurations, and official holiday celebrations. The orchestra can be heard monthly on Classical WETA-FM, as well as during live annual television broadcasts which are viewed by millions on PBS each Memorial Day and Independence Day.