Corey Smith
Date: August 12, 2017
Time: 8:00pm
Upcoming Events for Corey Smith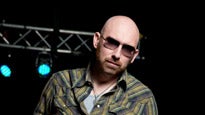 "He's sold out the Roxy Theater in Atlanta, the 1,000-capacity Georgia Theater in Athens -- and nearly sold out The Handlebar in his second performance here. Now, Corey Smith returns with his beer-bucketful of getting-through-life-with-a-hangover-and-a-hard-on party tunes that are as far away from the James Blunt/Jack Johnson/Marc Broussard mold as Jim Beam is from Jim Henson. Corey is what might happen if you threw Jimmy Buffett, Robert Earl Keen, Donkey (from Shrek), Bob Schneider and a few shots of whiskey into a blender, poured it into one of those 64-oz. traveling mugs that might last long enough to get you to the state line on the most insane road trip of your life (we're not promoting drinking and driving here) -- and you're listening to Corey's music the whole way. Sing-a-long. Off-kilter. Edgy. Honest. Real as a paper cut. Funny as a fart in church." - John Jeter, The Handlebar - Greenville, SC

Since the 2003 release of his debut album, Undertones, singer-songwriter Corey Smith has been flying high under the radar, attracting an enthusiastic grassroots following with an Americana sound that is all his own. Drawing heavily from the blues, country, and rock traditions of the South, he applies the back-porch twang of an acoustic guitar, a soulful singing voice, and well-crafted lyrics to the task of creating music that is at once distinct and familiar. Audiences are certainly responding - proving that a genuine, unpretentious approach to songwriting and live performance has mass appeal.

At twenty-eight years old, after nearly a decade of honing in his craft and coping with an unkind music business, Smith is thrilled to finally taste the fruits of his labor. Growing up in a family of musician in the small, rural setting of Jefferson, GA (a short drive from the famed Athens music scene), he has been singing, playing guitar, and performing for as long as he can remember. However, he traces his professional musical endeavors back to his college years, when he began learning the ropes as a working musician, taking classes in voice and guitar during the day and gigging at night. Smith made extra money in local bars, restaurants, and coffeehouses, covering popular tunes and earning a reputation as an up-and-coming original artist, with songs such as "The Basement," "When the Sun Goes Down in Georgia," and "The Bottle."

After graduating from the University of Georgia in 2001 and marrying his college sweetheart, Shannon, he took a two year hiatus from professional performance and focused on his career as a social studies teach at North Gwinnett High School in Suwanee, GA. He continued studying music in his spare time and used songwriting as a way to cope with the pressure of settling down and transitioning from the college life. Songs such as "In Love with a Memory," "What Happened," and the college anthem, "Twenty-One," were penned during this tumultuous period and poetically convey the emotional struggles that often characterize the end of adolescence.

In the spring of 2003, Smith began easing back into the North Georgia music scene, showcasing his original music at open-mics around the region and playing regularly at local watering holes. He was warmly accepted by audiences at venues such as the legendary Eddie's Attic in Decatur and Cheetah Marie's Cafe in Monroe, where he won a songwriting competition that allowed him to record his first album, Undertones. Although the unpolished, debut record was originally intended as a demo and sold primarily to friends and family, it effectively captured the raw emotion of Smith's music and served as a fitting demonstration of his songwriting anticipated. The popularity of Undertones made Smith a hot commodity in venues across North Georgia, especially in the college towns of Athens and Dahlonega, where his energetic and highly entertaining live performances added to his appeal and earned him a reputation among students seeking a good time.

Encouraged by the positive response, Smith wrote busily and compiled enough material to produce a new album, entitled In the Mood, in September of 2004. Although it differed in style and production from Undertones, the songs contain the sincerity and attention-to-detail which characterize all of Smith's work. Tracks such as "It's Over," "Drinkin' Again," and "In the Mood" showcase a wide array or musical and lyrical styles and are striking testimonials of a musician who is learning to "make it big" on his own terms.

2005 was a year of growth and opportunity for Corey Smith. The March birth of his first son, Aden Ryan, has provided a powerful new source of motivation and inspiration that is greatly affecting all of his endeavors, and the success of his albums has opened important doors in the rough-and-tumble music business. In the fall of 2005 Corey began working closely with guitarist Jason Kenney, touring in support of his latest album, The Good Life. One listen and it's easy to hear why the album has been met with great acclaim and continues captivating audiences since its release.

January 2006 found Corey back on the road as a full time musician with a sold out show at the Georgia Theatre in Athens, GA under his belt. Word about his heartfelt songs and captivating live performances spread quickly and Smith is in high demand across the southeast. His status as a "party-in-a-song phenom" is rapidly growing and is largely due to an extraordinary Internet presence. He has over 800,000 MySpace plays and 22,000 "friends" (adding over 200 new fans a day). Smith is consistently ranked among MySpace's "Top Artists" and as of August 1, 2006 was the #5 indie-country and indie-acoustic artist, and #51 on the rock ranking chart. Nearly 10,000 of his 28,000 paid downloads are from iTunes (the remaining coming from Rhapsody, Musicnet, Emusic, BuyMusic, Verizon Wireless and MusicNow, among others).

Smith has now SOLD OUT over 20 shows in the southeast US, many of them selling out in advance; including The Roxy (Atlanta, GA), Georgia Theatre (Athens, GA - 4 shows), The Handlebar (Greenville,), Blue Horse Music Hall (Augusta, GA), Capital Theatre (Macon, GA), Brother's Bar (Jacksonville, AL), Highland's (Auburn, AL) and Headliners (Columbia, SC). With other shows selling out day of show, Smith has now expanded his touring base to nearly 40 markets from North Carolina to Mississippi to Florida.