Upcoming Events for The Word Alive
The Word Alive is an American metalcore band from Phoenix, Arizona, formed in 2008, the band is currently signed to Fearless Records. Their 2009 label debut, Empire reached position 15 on the Top Heatseekers, meeting a great amount of positive acclaim upon its release in 2009. The following year, the group recorded and released their debut full-length album, Deceiver on August 31, 2010, which reached 97 on the Billboard 200 and 15 on Independent Albums. The Word Alive has gained renown praise for their innovative style of modern metalcore; blending thrash, groove, alternative and ambient elements into their overall delivery.
Upcoming Events for In This Moment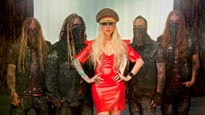 Few individuals throughout this world have the drive to create their own fate in life, resiliently defying all obstacles in their way. IN THIS MOMENT are a group of five people on the path to doing just that, with an eye on carving out their own destiny and refusing to let others deter their sole mission of becoming the biggest band in the world. Their highly anticipated debut album, Beautiful Tragedy, produced by Eric Rachel (Atreyu, God Forbid), is a dynamic opus that proves they are well beyond their years.

The Southern California-based unit formed in 2005 when Chris Howorth (guitars) and Maria Brink (vocals) met via mutual friends and immediately realized they had similar interests. The duo quickly wrote five songs and called the project IN THIS MOMENT. Jeff Fabb (drums), who was playing in another band with Howorth, soon joined the fold, and the three of them entered the studio to record their first demo. The new tracks garnered overwhelmingly positive responses on their MySpace page, and the word started to spread. Blake Bunzel (guitars) and Jesse Landry (bass) rounded out the lineup, and soon their new material caught the attention of Century Media Records, who enthusiastically signed them to a worldwide deal.

IN THIS MOMENT quickly became one of the most talked-about artists within their local scene due to the intensity of frontwoman Brink and an undying work ethic. Their organic buzz quickly carried over to the band's MySpace page, with over 125,000 friends and more than a million plays as of the end of 2006. Their invigorating mixture of metal and hard rock is sure to catch the attention of fans of acts ranging from AFI and My Chemical Romance to Bleeding Through and Atreyu. The diversity and depth of their songwriting is refreshing, and their musical prowess is simply undeniable.

In 2007, IN THIS MOMENT begins to write their own unique and exhilarating chapter in the hard rock/metal genre, laying the foundation for an extremely bright future.