Upcoming Events for Kreator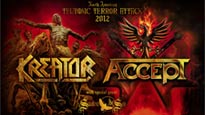 Combine extreme music with an edgy, biting implacability, complement it with politically motivated lyrics that have a distinct tendency to point the finger at grievances and aren't afraid of exposing abhorrent facts, and you just might get a sense of the pandemonium of sounds on Hordes of Chaos, the latest recording by Germany's cult thrash metal act, Kreator, scheduled for release on Steamhammer/SPV on 19 January 2009 (Germany: 16 January, US: late January). Even in 2009, the band prove themselves to be unusually innovative and a step ahead of the game, always ready to pursue new ideas and treat themselves and their fans to maximum authenticity. Frontman Mille Petrozza, along with drummer Jürgen 'Ventor' Reil, bassist Christian Giesler and guitarist Sami Yli-Sirniö, recorded ten hard-as-nails tracks in the summer of 2008, songs with a persistent and unmistakable message - Kreator are experts when it comes to pure, unadulterated thrash metal.

In terms of content and composition, Hordes of Chaos takes up where its predecessor, Enemy of God (2005), left off. Petrozza, who again offers his points of view for public discussion, explains, "The global political situation has come apart at the seams. The Eastern and Western Blocs no longer exist, and today it's a case of dog eat dog." Petrozza considers the album's raw, in-your-face approach "a warning to the coming generation. Everybody has to go their own path in life and should try not to buy into the propaganda lies that governments feed us.

Hordes of Chaos was recorded at Berlin's Tritonus studios under the direction of producer Moses Schneider. Schneider is renowned for his fresh and exceptionally dynamic working methods with bands and artists such as Tocotronic and Beatsteaks. "We consciously decided on Moses as our producer for the live recording of the basic tracks at the studio," says Petrozza. "This was the first time since Pleasure to Kill that we worked in this fashion. The new album is a 100% realistic reflection of Kreator's live qualities. Instead of exploring every little detail to sterile perfection with the help of computer technology, this time around we wanted to deliver as dynamic of a production as possible. There can be no doubt that we've achieved our target in Hordes of Chaos." The album was mixed in London by Colin Richardson (of Slipknot, Bullet for my Valentine, Cradle of Filth fame).

The result is exactly what one would expect from Kreator in terms of its energy and stylistic direction. Hordes of Chaos brilliantly conveys the same intense energy that Kreator is known for in their live stage shows. "We play our music just the way it was played in the seventies," says Petrozza, whom rigorously despises any artificial cosmetics added through sound distorting studio tricks. "The problem is that nowadays, even the worst groups can sound great, thanks to computer mastering. We don't want that. We want to sound natural and record the album just as it was done in the past.

The new studio album will be available in three different versions. The jewel case edition includes the ten regular album songs, and the deluxe version features an additional bonus DVD, which shows an atmospheric making of the album in super-8 quality, courtesy of the Berlin film maker, Stephanie Beauvoir.