Gaelic Storm
Date: November 19, 2017
Upcoming Events for Gaelic Storm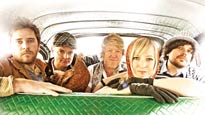 Gaelic Storm burst onto the world stage when they were cast as the party band in the steerage scene in the blockbuster movie Titanic. Part Irish pub and part rock band, Gaelic Storm's dynamic stage show features rousing, upbeat vocals, wild energetic dance tunes, haunting Celtic ballads and infectious madcap humor!

Gaelic Storm has continued to broaden the Celtic music genre since the band was formed nearly ten years ago. They create compelling originals and fresh arrangements steeped in Irish traditional melody and acoustic instrumentation combined with their unique blend of world rhythms. Says the Pittsburg Tribune, "Gaelic Storm is rock-flavored… music as Irish as Guinness and Harp."

On St. Patrick's Day in 1996, co-founders Patrick Murphy of Cork City, Ireland and New Yorker Steve Wehmeyer officially joined forces with Steve Twigger of Coventry, England at O'Brien's pub in Santa Monica, California. Their first performance was such a hit that the crowd refused to let them off the stage for the next act. In 1997, Gaelic Storm was catapulted out of the pub haunts by their appearance in Titanic. They landed the part while drinking pints and playing weekly at O'Brien's. After the film's release the band was met by huge crowds on their first tour. However, they still pride themselves on remaining accessible and share "a pint" with fans whenever possible.

Touring aggressively, Gaelic Storm routinely breaks attendance and merchandise sales records, pushing their popularity beyond the World music genre and into the mainstream music consciousness. The group has performed on The Rock Boat 2004 along with bands such as Cowboy Mouth, Tonic, Sister Hazel and Gavin Degraw. Gaelic Storm was invited back to The Rock Boat 2006 alongside acts such as Better Than Ezra and March Broussard. The band has headlined the largest US Irish Festival, the Milwaukee Irish Fest, for four straight years and has become an exception to the festival's usual policy of not inviting artists to perform in consecutive years.

Bring Yer Wellies, the band's sixth studio album channels the rowdy communal feel of an Irish pub on raucous sing-along and spirited fiddle tunes. The album was recorded in a one-month fury in April 2006 at The Zone recording studio in Austin, Texas. This new album comes on the heels of the band's first concert DVD, Live in Chicago, which was released in January. The two-hour video, taped at the House of Blues in Chicago, showcases the trademark energetic performance and enthusiastic audience interaction that make the band a front-runner in the Celtic music genre today.

A mini-documentary about Gaelic Storm airs regularly on Cinemax and the band has appeared numerous times on national and international television. Gaelic Storm includes Patrick Murphy on vocals, piano, accordion, spoons and harmonica; Steve Wehmeyer on bodhran, vocals and didgeridoo; Steve Twigger on vocals, guitar, mandolin and bouzouki; Ryan Lacy on drums and world percussion; Ellery Klein on fiddle; and Pete Purvis on uillean pipes, tin whistle, daeger pipes and highland pipes.