They Might Be Giants
Date: January 19, 2018
Upcoming Events for They Might Be Giants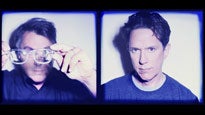 This year They Might Be Giants are celebrating their 30th anniversary as a band. Yes, it is their pearl anniversary, and they are actively wondering what practical things are made of pearl.

They Might Be Giants is an original band from Brooklyn, New York founded by John Flansburgh and John Linnell. TMBG writes, records and tours continuously, has been involved in numerous television and film projects. They have an on-going audio and sometimes video podcast that is free. They have won two Grammys. The Johns are frequently joined by Dan Miller on guitar, Danny Weinkauf on bass, and Marty Beller on drums.

In July 2012 They Might Be Giants released the 10th Anniversary Deluxe Edition of their first album for kids, No! It includes seven bonus tracks that are actually good, including a full length recording of the song Alphabet of Nations. Currently TMBG is producing an international crowd-sourced video to promote the Global Fund for Children.