Whitechapel w/ Carnifex
Date: December 3, 2017
Time: 5:30pm
Upcoming Events for Carnifex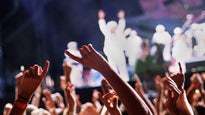 San Diego-based "deathcore" outfit Carnifex formed in Fallbrook, California in 2005 around the talents of Scott Lewis (vocals), Shawn Cameron (drums), Rick James (guitar), and Kevin Vargas (bass). After releasing a self-titled demo through Enclave Records, James and Vargas departed, and were replaced by bassist Steve McMahon and guitarist Travis Whiting, resulting in the 2006 EP Love Lies in Ashes. The band inked a deal with This City Is Burning Records in 2007 and released their full-length debut, Dead in My Arms, during which the band recruited a second guitar player, Jake Anderson, for a tour which included dates with Whitechapel and Emmure. The following year, Carnifex signed with Victory Records and endured another lineup change with the departure of McMahon and Anderson and the addition of Fred Calderon and Ryan Gudmunds. The group's sophomore outing, 2008's The Diseased and the Poisoned, peaked at number 19 on the Billboard Heatseekers chart, while their third release, 2009's Hell Chose Me, sold over 3000 copies in its very first week. The band's fourth outing, Until I Feel Nothing, arrived in 2011.
Upcoming Events for Whitechapel
Phil Bozeman - Vocals
Ben Savage - Guitar
Zach Householder - Guitar
Alex Wade - Guitar
Kevin Lane - Drums
Gabe Crisp - Bass

As the death metal genre continues to explode, Knoxville's Whitechapel stand bloody head and bruised shoulders above the pack. With a ruthlessly brutal aural assault built upon merciless blastbeats and spine-destroying breakdowns, their three guitarists deliver immense riffs and monstrous leads while vocalist Phil Bozeman vomits out lyrics that avoid clichés and give fans something to think about as they scream them back. Basically stated, this is as shit-your-pants exhilarating as modern metal gets.

Formed in 2006, it did not take local metal fans long to realize that they had something very special going on in their midst. "We went from fifty of our friends coming to our shows to two hundred people coming out inside of six months," guitarist Alex Wade states. "We've always held ourselves to a certain level of professionalism, we worked our asses off, and I think we definitely offered something that a lot of bands in the scene did not."

Building such momentum, it is unsurprising that the sextet – rounded out by guitarists Ben Savage and Zach Householder, bassist Gabe Crisp, and drummer Kevin Lane – soon found themselves courted by record labels, signing to the UK's Siege Of Amida, for their 2007 debut, The Somatic Defilement (with Candlelight handling the US release). Hitting the road hard, both their profile and army of fans grew rapidly. Inside of a year, they were signed by Metal Blade following an intense bidding war between eight labels hungry to add the Tennessee wrecking crew to their roster, and the band immediately set about working on their second album, the titanic This Is Exile.

A quantum leap forward in terms of song writing and focused vitriol, This Is Exile threw a gauntlet down to all others trying to crowd into the genre alongside them. Admitting that the lyrical content on The Somatic Defilement was limited to "typical brutal death metal stuff – songs about evil ways to kill people and that kind of thing", Bozeman approached This Is Exile in a far more cerebral manner, uniting the songs through a core concept. "The record was a lot more about the kind of evil that actually exists in the world," the vocalist states. "It was about three specific people who hunger after power, which leads them to starting a diabolical war that ends the world. I was really proud of it, because it had a lot more feeling and maturity about it, and it gave people something a little different."